Good morning sunshines!!!
I just wanted to do a quickie before I started on today's craft! :D I'm so excited to get started. The fabric that I have for this sewing adventure is simply beautiful. I'm kind of nervous about doing anything with it because I don't want to run it. haha. Luckily, I bought 2 yards of each designs so if I mess up one I will have enough to start over again. haha.
So here's a quickie 5 questions brought to you by a fun little blog that does a weekly questionnaire to get to know others. I'm loving get-to-know-you linky parties! They definitely help when you hit that wall on what to write for the day. So please go check it out!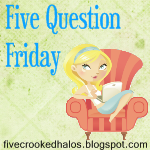 1. What do you listen to while driving?
I almost always have my MP3 hooked up and playing all my fave music. Evangelina and I like to turn it up loud and sing along. I definitely enjoy our car rides together because we like to sing and dance to the music. My music ranges from pop punk like New Found Glory to old school R&B like Boys II Men. Evangelina's favorite songs right now are "I Wanna Be A Billionaire" by Travie McCoy ft Bruno Marrs and Paramore's new one, "The Only Exception." I don't know how these became her favorites right now but she gets so excited when they start playing.
2. What is your least favorite thing about Fall?
The Shorter days and lack of sunshine!!! I miss the sunshine. It seems like as soon as fall hit this area our sunshine decided to go into hiding. I don't mind the chill so much because I love to wear cardigans, but I still need the sunshine.
3. What does your dream house look like, inside and out?
It would be a larger ranch style home with about 4 bedrooms to start and 2 and a 1/2 baths. Of course the master bedroom and bathroom would be huge (a nice little get away for the hubs an I) with a craft room connected to it with lots of storage for my craft supplies. It would have a open layout so that when you are in the huge kitchen with the newest appliances you could easily see the dining room and living room. It would have a large front porch with a swing and then a porch off of the kitchen for outside entertaining. It would also have a pool and tree house for the Evangelina and friends.
I'm a big dreamer, I know!
4. Would you ever own a minivan?
I most likely. If we ever have another little one I definitely plan on getting a larger vehicle. Its much easier to tote kids around.
5. Do you wash new clothes before wearing them?
I probably should but I don't. I get too excited to wear them and most of the time after you wear them they don't fit like they did when you tried them on at the store. haha. I am quite particular on how clothes fit. And now that I've lost weight my clothes aren't fighting exactly how I like them and its annoying. haha.
So that was it for the questions! I hope you all enjoy and go check out this fun link party.
I hope that you all have a fabulous Friday! And be sure to check back later today to see what I created today.
Take care lovelies!
P.S. I'm linking up here also!