Its Wednesday!!!! Yay!
I'm excited for my 3 day weekend with the hubs and my little terror! But I'm really excited for my friend Kristen and my craft night tonight! I'm excited to hang out with her outside of work or the gym.
So now its My Style time. Sometimes I feel like I have no style, or that I look totally drab in an outfit, but I love looking at what everyone wears and I figure if they can do it...why can't I, right? Besides the hubs always says I look beautiful...and he wouldn't lie, right? haha
Saturday:
Dress: Old Navy last year.
Necklace and Bracelets: Thrifted!!!
Shoes: (you can't see) Sling back wedge sandals in black ($5 at Shoe Carnival)

Sunday:


Dress: Another Old Navy find.
Belt: NY and Co. $3
Scarf: Thrifted $3
I love dresses! In the summer its rare to find me in something other than a dress. I despise the winter. I know that this winter I am going to have a hard time deciding what to wear. Boo!
You should definitely stop by and check out these to blogs I am linking up to today.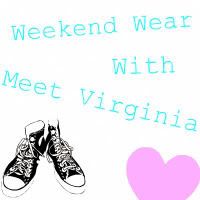 Have a great Wednesday beauties!!