Good morning beauties!I hope that everyone had a wonderful start to their week. I unfortunately haven't. I fought with an ugly migraine all day yesterday and had to call of work. Boo! Luckily, today I feel much better. Although, the migraine is still kind of lingering. I just need to stay on top of it.
Today, I have a fun and simple little project to share. If you are like me you love taking pictures and you have a bazillion of them already printed off, but not enough frames to hold them and you just don't want to hide them away in a scrapbook. At least not yet. So I decided to do this:
Cute, right? I call it The Photo Line.
It's still lacking something, but I can't quite put my finger on what it is.
This project was so simple it took me a max of 10 minutes prep time. (with out the drying time)
Materials:
Modge Podge
Clothes Pins ($1 at the dollar store)
twine ($2 from Lowes)
material ( I had leftover)
Nails (or Monkey Hooks-which I love)
1. Cut your fabric to fit over the front of your clothes pin.
2. Modge podge it.
3. Let it dry.
4. While its drying pick out all the photos you want to hang.
5. Find a space to hand your Photo Line and drive 3 nails into your wall evenly spaced out.
6. Cut your desired amount of twine to hang and make a little loop at each end.
7. After the clothes pins are dry, hang them along with the photos on the line.
8. Hang up your Photo Line by hanging the loops on the first and last nail and just draping the middle over the middle nail.
Easy as cake!
I am all about simple little projects that can make a difference to your home. I really hope that you all enjoyed this little project. I know I enjoyed doing it and I definitely enjoy looking at it. Of course, I still think that it could use a little something else. If anyone has any ideas for what I could add to make it pop! I am open to suggestions.
Well, now its time to head to go get ready for the day. I hope you all have a wonderful Tuesday!
-Danielle
P.S. I'm linking up here: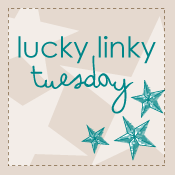 Please go check out all the beautiful creations!