Hey beautifuls!
I hope that everyone had a wonderful weekend and a great start to their week today. It stinks that its Monday again, but luckily Monday only comes once a week. haha.
Yesterday, I had a wonderful day with my little terror and then later an even lovelier day because my sister came over and we had a bit of a craft time. I picked up Evangelina from my mom and then we went grocery shopping and while we were in the car I turned on Bruno Mars' "Just The Way You Are," and Evangelina and I sang along at the top of our lungs! It was so much fun! And quite hilarious! I laughed so hard that I was crying. I honestly wish that I could have caught it all on camera to share with you all.
After we got home, my sister and her client came over and we started on some crafts. Domo (and her client) made Evangelina a little pink love monster. It is so stinking adorable!
And Evangelina LOVES it!
It was the first item that she grabbed when we went to bed.
(Even before her blanky and bink!)
If you get a chance go check out my twinnie's blog and make her feel welcome!
She decided to start blogging just a couple days ago and she is so excited that she did!
I am excited also! haha.
Now it is story time!
Today's story is brought to you by a beautiful little terror that has a huge piece of my heart, Evangelina.
(Yesterday, we were sitting together and she started telling me a story about a monster. Of course I could only understand pieces of it, but what I did understand was wonderful!)
Once upon a time there was big, big monster named Monster. He was pink with orange arms and a big crooked smile. Now Monster wasn't your typical monster, he didn't scare ( although his height was very intimidating,) and he didn't chase things. But people were still scared of him because he only spoke gibberish.
One day he met a pretty little girl who just loved to terrorize everyone around her and loved to speak gibberish herself. He fell in love with this little girl and went home to make a big Valentine for her to show his affection. He cut a big heart out of some bright green paper and wrote a little message on the back asking her to be his friend! Then he proceeded to take it to her. When he spotted her she was busy terrorizing her dog and didn't notice him approaching her. He reached out and touched the little girl on the shoulder and she jumped and turned around with fear in her eyes. He knew that look and tears welled up into his eyes and he dropped his Valentine and turned to walk away. The little terror frozen in horror melted when she saw those tears in his eyes and when she saw the big green heart fall from his paws. She picked it up awkwardly because it was larger than her and read the back of it. A giant smile sprang to her lips and she spoke out to the sad giant monster and said..."wait..dishoda misd freoijsnd." The monster turned around with a giant crooked smile and wiped his tears away. The little girl smiled and hugged the Monster and from then on they were best friends forever.
The end.
I hope that you all enjoyed the little story that Evangelina told me (even though I did embellish a tad) and I hope that you all have a magical Monday!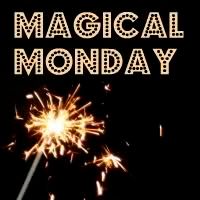 Take care lovelies!